Montbretia crocosmia x crocosmiiflora removal
Not sure how to get rid of Montbretia? With 25 years' experience, Environet is the UK's leading invasive plant removal company. We can advise you on cost-effective Montbretia removal & treatment methods for residential and commercial sites.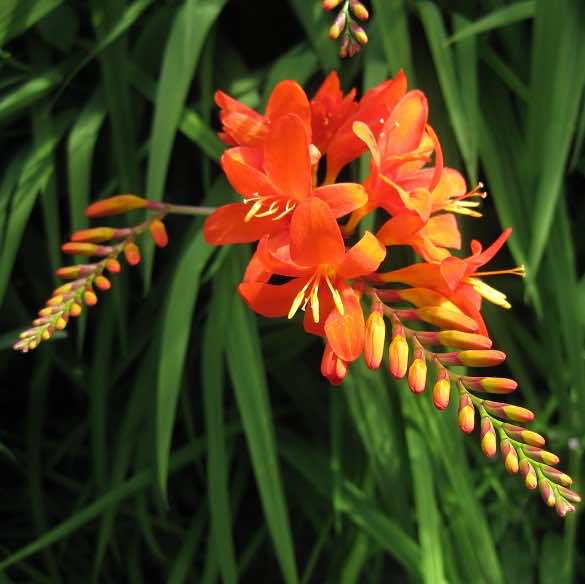 Montbretia is a variety of crocosmia – a colourful perennial that is common in many gardens around the UK. Crocosmias were first introduced in the late 19th century and hundreds of hybrid varieties have been created over the years, available for sale online and in garden centres.
Montbretia crocosmia x crocosmiiflora is of particular concern as it has spread to the countryside. It is now listed in Schedule 9 of the Wildlife and Countryside Act as an invasive species.
The plant begins to grow in spring. It is characterised by long spear-shaped leaves that grow to a height of about 60 cm and colourful, red-orange flowers that are shaped like a funnel and which persist for most of the summer and into early autumn.
Beneath the ground, you'll find bulb-like structures called corms and the spread of these are mostly responsible for its growth.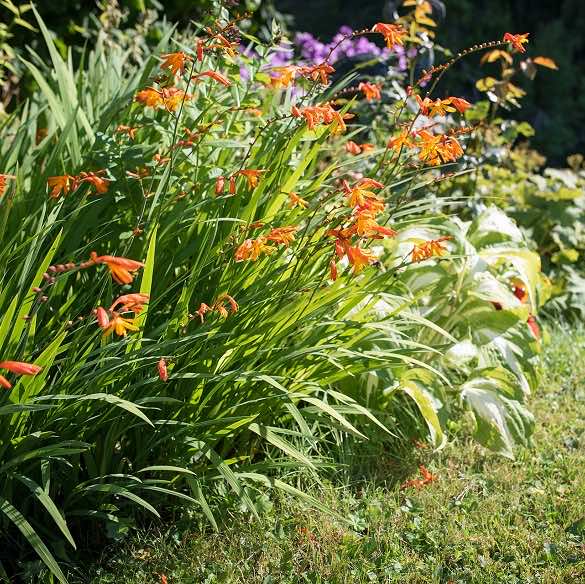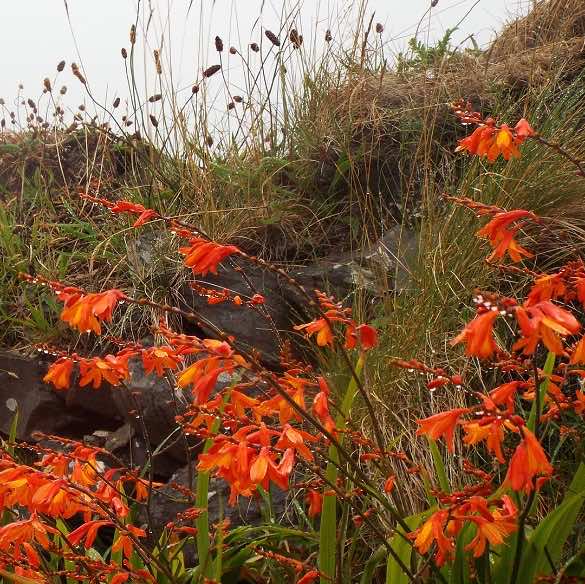 Montbretia spreads mostly via its network of rhizomes and rarely by seed. That means it can be difficult to see where it is expanding until the leaves and flowers start to emerge. Montbretia can grow into infrastructure such as walls and paving and cause minor damage, but its ability to cause physical damage is not really the issue.
The big problem is that Montbretia crocosmia x crocosmiiflora has now become endemic in many habitats around the British countryside. When it is unfettered it is likely to outcompete existing flora and will unfortunately have a significant impact on local wildlife and ecosystems.
Most Crocosmia varieties, including Montbretia are sun lovers, and prefer moist, but well-drained soils. This is why they are most prevalent along hedgerows and in coastal areas. Hedgerows are critical wildlife corridors, so it's important that we do not damage them by allowing invasive plants to colonise them.
Although it is listed in Section 9 of the Wildlife and Countryside Act 1981, it's not illegal to have Montbretia in your garden. It is, however, against the law to do something that causes the plant to be released into the wild. For example, if you dig up your Montbretia and dump it in the country, you are breaking the law and you may be liable for a hefty fine if you are found out.
While you don't need to tell anyone if you have Montbretia on your land, it is a good idea to inform neighbours so they can keep a look out for it. Some councils have rules and regulations relating to invasive species and may well mention a plant like Montbretia, so it's worth checking locally to make sure you're not putting yourself at risk of a fine.
Use our extensive guide to identify Montbretia
What does Montbretia look like?
Prevent costly damage to your property
How to get rid of Montbretia
The two most common methods of removing a plant like montbretia are digging it up or using a herbicide. Excavation can be difficult if your Montbretia is well established as the Rizhomes corms develop on top of each other in 'conjoined strings', which can be quite widely spread and deep in the ground. Normal gardening tools probably won't get to the depth that you require.
Chemicals such as herbicides can be used to control the growth and, for smaller infestations, may destroy the plant altogether. The network of rhizomes and corms, however, could mean that not all areas of the plant get a dose of herbicide. If you are planning to do this, you will need to apply the herbicide while the plant is growing during the spring and summer.
For large infestations of Montbretia, the big challenge is removing all the plants entirely and this usually requires a mechanical solution. That will include using mechanical diggers to take away the soil and the Montbretia corms.
Hiring a professional plant removal company has a lot of advantages. First of all, they can assess the extent of the growth and also check surrounding areas to see if the Montbretia has spread beyond the boundaries. Excavation is used to remove both the plant corms and the soil surrounding them. This can often mean digging down at least a metre, something that is just not realistic on a large scale with simple gardening tools.
The plant removal company will also ensure that the waste material is sent to a licenced landfill and disposed of safely. This is critical if you want to ensure that the Montbretia does not spread and set up home somewhere else.
In some cases, the nature of the landscape and location can mean that excavation is not possible. For this, chemical control can be used – while this can take several applications to fully remove the infestation it is often the only solution available. This can often happen when removal is required on a domestic property where infrastructure can hamper any meaningful digging.
With 25 years' experience in the industry, Environet is the UK's leading invasive plant removal company. During this time, we've been dealing with some of the UK's most common non-native invasive plants including Japanese knotweed, Bamboo, Giant hogweed and, of course, Montbretia.
We operate across the whole of Britain and provide both consultancy and removal services for homeowners and businesses as well as organisations such as councils. Our teams are highly trained and know practically all there is to know about invasive species such as Montbretia.
Of course, we understand that each situation is unique and there is no one size fits all solution. That's why we'll work with you to put together a plan that will succeed, whether that's using mechanical digging to remove the Montbretia or a chemical control solution. We'll also help you put together a monitoring process to ensure that you spot any regrowth in the future.
If you have a problem with an invasive species like Montbretia crocosmia x crocosmiiflora, contact the team at Environet today to find out how we can help.
To Start Fixing your Montbretia Problem Today
Call our team for specialist advice and effective solutions
We have robust systems in place for Environmental and Health & Safety management. Risk assessments are carried out for every aspect of our business to identify situations where harm could be caused. We have an ethos of continuous improvement to eliminate or reduce the risks with detailed working procedures, on-going training and monitoring.
All our staff have health and safety and emergency first aid training. We are also accredited by CHAS and Constructionline and are members of the Property Care Association (PCA).
Our team of experts is available between 9am and 5:30pm, Monday to Friday to answer your enquiries and advise you on the next steps
Request a survey online in less than two minutes by simply uploading a photograph and providing a few brief details. A member of the team will swiftly come back to you with further information and our availability.
Need quick plant identification?
There's no need to wait for a survey. Simply upload an image to our identification form and one of our invasive plant experts will take a look and let you know, free of charge.
Contact our team of experts today