A guide to mortgages and Japanese knotweed
While homebuyers recognise that Japanese knotweed is an invasive species and that they must get rid of it, they often don't understand that its presence can also affect getting a mortgage
The reason that mortgage companies are concerned about Japanese knotweed is that it can grow into infrastructure and cause substantial damage if not controlled.
Getting a mortgage with Japanese knotweed on the property is not impossible but it does mean that you will need to have a comprehensive plan in place for keeping it under control. Here we take a look at what options there are and address the most common Japanese knotweed mortgage problems.
Getting a mortgage with Japanese knotweed
It's estimated that about 4 to 5% of homes in the UK are affected by Japanese knotweed. That may not seem a lot, but there are hotspots where you're more likely to encounter it.  Buying a property in these locations can be problematic.
If you are selling a property and you know that you have a Japanese knotweed issue, then you need to inform any potential buyer. Check out our guide to spotting this invasive plant if you are not sure what it looks like.
Unfortunately, Japanese knotweed is on the increase and has reportedly become more of a problem in certain areas. The good news is that recent advice suggests that mortgage companies have been over-cautious in the past when it comes to lending to buyers.
You will not be denied a mortgage with Japanese knotweed, but you will more than likely have to invest in a management plan that satisfies the lending company to address the issue. A lot may depend on the location you live in – in some hotspots, mortgage companies are still very wary and may even insist on a specific Japanese knotweed survey before they decide to lend.
Getting a mortgage with Japanese knotweed on the property is not impossible even though lenders are likely to be wary. They will be concerned that the extent of the growth doesn't cause damage to the property itself. They'll also be concerned about the resale value of the property should it need to go back onto the market (for example, if you default on the mortgage).
If the plant is near your home but not on the property, there can also be consequences. Getting a mortgage on a house with Japanese knotweed nearby generally depends on how much of a risk it is to the property. Essentially, if the knotweed is more than 3 metres from your property boundary, you should have no problem getting a mortgage.
If the plant is within that distance or on the property itself, then you should be offered a mortgage if you use a certified company to remove or manage the knotweed. This company must offer what is called a warranty or guarantee, backed by insurance, that the knotweed will not return over the next 10 years. If you don't have a plan for removing Japanese knotweed, no mortgage is likely to be granted.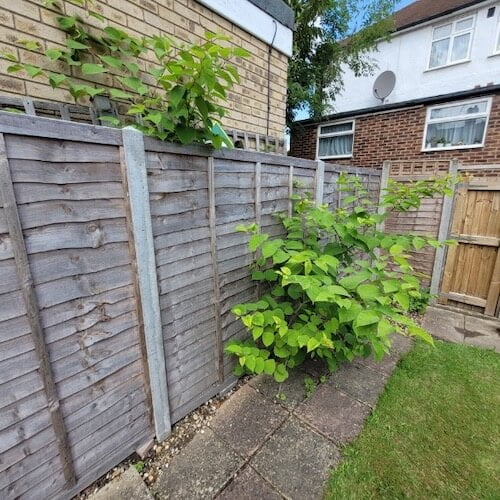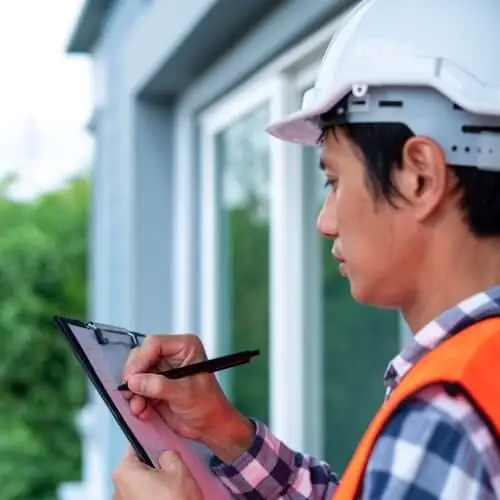 Japanese knotweed mortgage valuation
If you are employing a surveyor to value the property you intend to buy, then you should reasonably expect them to assess places like the garden and surrounding area for evidence of the plant. You can't always depend on the seller to either know that Japanese knotweed is present or be completely honest about it.
When it comes to Japanese knotweed, mortgage valuation can be affected depending upon the extent of the infestation and how likely it might be that the infrastructure of the building has been damaged.
Although mortgage retentions are now relatively uncommon, it is quite likely that where Japanese knotweed is identified on a property, a chartered surveyor would flag it as an issue, and the lender would want a management plan put in place prior to agreeing a mortgage offer.
Common Japanese knotweed mortgage problems
The most common Japanese knotweed mortgage issues are either not getting a lender to agree to the asking price or having to pay a higher rate of interest because of the potential problem. With Japanese knotweed, mortgage lenders can vary in approach depending on the area in which you are hoping to buy a property, particularly if you are in a hotspot.
The big challenge is discovering the extent of the infestation and then feeding that back to the mortgage company in a comprehensive report. When it comes to Japanese knotweed, mortgage issues can usually be solved if there is a strong management plan in place.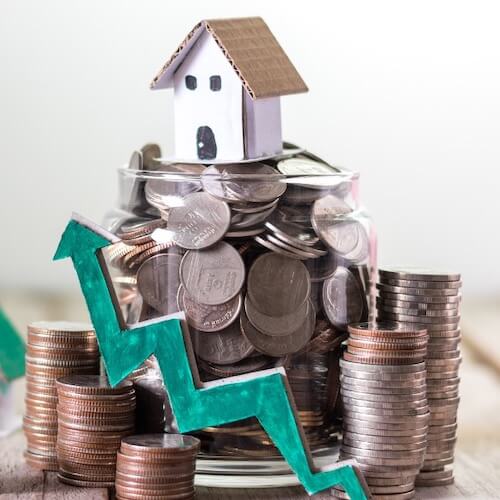 Buy-to-let mortgage with Japanese knotweed
If you're applying for a buy-to-let mortgage, Japanese knotweed can be an issue for several reasons. For a start, finding a mortgage provider who will lend you money can be more difficult as you won't be living at the property. Putting together a management plan for your mortgage company is also likely to add to the cost of your initial investment, depending on the extent of the infestation.
How to find a mortgage lender with Japanese knotweed
The Royal Institute of Chartered Surveyors (RICS) has recently revised its guidelines for mortgage companies when it comes to this invasive plant. The general view is that mortgage lenders' policy on Japanese knotweed has been a little too cautious – while property damage is of primary concern this only happens in a very small number of cases.
In short, when it comes to Japanese knotweed and mortgage lenders, the presence of this plant shouldn't stop you from shopping around for the best deal. It's a good idea, if you can, to have a full survey as to the extent of infestation before you reach out.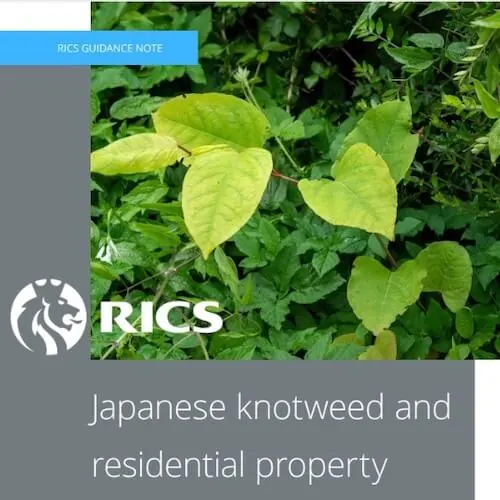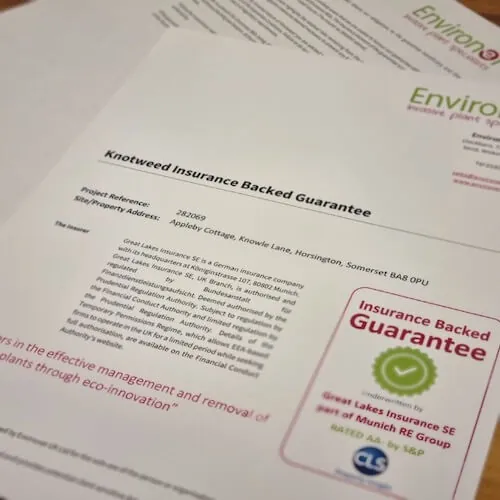 Banks and Japanese knotweed mortgages
Most popular banks have a clear policy when it comes to Japanese knotweed-related mortgages:
HSBC Mortgage: Japanese knotweed should not have damaged infrastructure and the buyer needs to have a management plan in place.
Nationwide Mortgage: Japanese knotweed that is causing material damage requires a specialist report and management plan. If there is no observable damage, then the buyer needs to acknowledge its presence and the potential for adverse effects if the infestation gets closer to the property.
Halifax Mortgage: Japanese knotweed considerations are subject to the valuation and this needs to be done in conjunction with a report from a treatment company along with a management plan.
NatWest Mortgage: Japanese knotweed is again assessed on the valuation and survey and completed in conjunction with a full report and proposed management plan.
Santander Mortgage: Japanese knotweed is considered on a case-by-case basis for the bank and they seem to be more reticent about offering mortgages at the moment than other lenders.
Barclays mortgage: Japanese knotweed that is within 7 metres must be investigated thoroughly by a specialist company offering a long-term management plan with an insurance-backed guarantee.
Japanese knotweed mortgage trends
There is no doubt that the way Japanese knotweed is looked at by mortgage companies, even over the past seven years, has changed. It's worth keeping up to date if you are just starting to look for a home to buy.
Japanese knotweed mortgage 2022: RICS released its new guidance on how surveyors should carry out preliminary assessments and how this should not 'derail' the sale of properties.
Japanese knotweed mortgage 2020: RICS began working on its revised advice for mortgage companies and Japanese knotweed.
Japanese knotweed mortgage 2019: The RICS were asking for better research on the impact of Japanese knotweed, potentially taking the more relaxed approaches other countries seem to have with this invasive plant.
Japanese knotweed mortgage 2018: A report by Fennel showed that Japanese knotweed is less likely to cause damage to infrastructure than trees.
Japanese knotweed mortgage 2017: Properties near rail lines that were infested with Japanese knotweed had difficulty in getting mortgages. This was mainly because of Network Rail's reticence in showing potential buyers their plans for eradicating the problem.
Japanese knotweed mortgage 2016: If a mortgage valuation expert noticed Japanese knotweed more than 3 metres outside the perimeter of the property, they were not, according to the RICS, duty bound to mention it to the potential lender.
Japanese knotweed mortgage 2015: Legislation changed to allow the Environment Agency to take action against landowners who had previously ignored requests to solve their knotweed problem. Some lenders would still not allow a mortgage if knotweed was identified outside the property.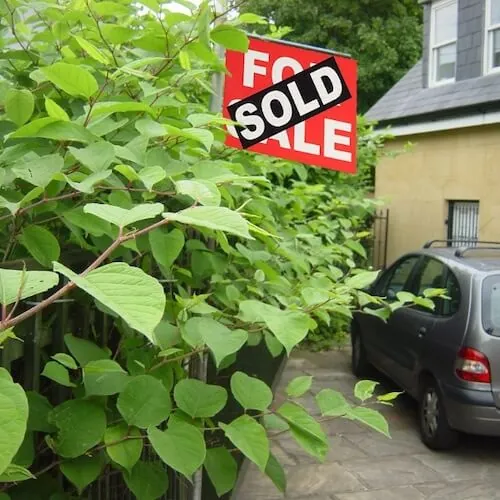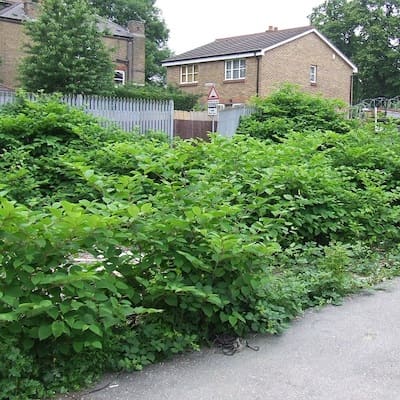 Japanese knotweed mortgage FAQs
Start fixing your invasive plant problem today by requesting a survey
Rest assured, where invasive species are identified at an early stage and tackled correctly, problems can usually be avoided. Our trained specialists carry out site surveys to map specified terrestrial invasive plant species and provide management plans tailored to your requirements. ​
Our team of experts is available between 9am and 5:30pm, Monday to Friday to answer your enquiries and advise you on the next steps
Request a survey online in less than two minutes by simply uploading a photograph and providing a few brief details. A member of the team will swiftly come back to you with further information and our availability.
Need quick plant identification?
There's no need to wait for a survey. Simply upload an image to our identification form and one of our invasive plant experts will take a look and let you know, free of charge.
Contact our team of experts today