Japanese knotweed Herbicide treatment
Herbicide treatment is a popular control method because it has the advantage of being relatively low cost, and is effective if done correctly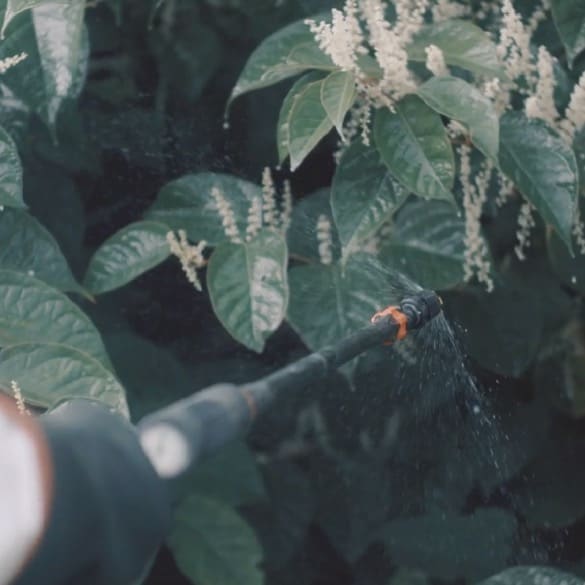 Japanese knotweed Herbicide treatment
Herbicide treatment is a popular control method, carried out during the growing season. Treatment control programmes typically consist of 4 treatments, spread over 2 growing seasons and annual monitoring visits in years 3 and 4. Large, mature stands are likely to require significantly more visits than this. It has the benefit of being low cost, however do bear in mind it is not suitable if the ground is going to be disturbed.
Our treatments generally cause no harm to animals, however, we recommend waiting at least 90 minutes before letting them outside, for ultimate peace of mind.
An insurance backed guarantee underwritten by an "AA-" rated insurer can be issued after the first visit, such that in the event of regrowth, further treatment is carried out by us at no extra cost.
Do you use glyphosate in your herbicide treatments?
Yes, glyphosate is the active substance in our herbicide treatment, it is effective at controlling most weed species. It was first used in the UK in 1976 and is now widely used around the world across many different industries, such as farming and forestry.
Although there has been debate surrounding the safety of using glyphosate, independent regulatory bodies, such as the European Chemicals Agency (ECHA), have concluded that it poses little to no risk when used correctly. As it is approved for use in many countries, glyphosate has been subjected to rigorous testing and regulatory assessment by bodies in the EU, USA and even by the World Health Organisation. 
All our herbicide treatments are carried out by specialist staff who have completed the industry recognised qualification NPTC Level 2 (aka PA1 and PA6) in the safe use of pesticides. So, you can be sure that your treatment will be carried out safely and efficiently.
Check for Japanese knotweed hotspots in your area
Environet's UK heatmap lists over 50,000 sightings!
Treating Japanese knotweed with stem injection
Stem injection is a method whereby herbicide is injected into the lower part of each mature stem of knotweed using a stem injector. Small knotweed plants cannot be treated with this method due to their size. There is some debate as to whether stem injection induces rhizome dormancy – making it look dead but not killing the rhizome system.
This isn't to say that stem injection should never be used. The advantage of stem injection is that a measured dose of herbicide can be applied directly into the plant, without the risk of drift prevalent with a foliar spray method of application. It should therefore be used if there are environmentally sensitive factors such as watercourses, protected trees, valuable hedges, etc. which must not be harmed. Bear in mind that it should be considered as a "control" method, so would not be deemed suitable in an area where the ground is likely to be disturbed.
If you would like advice or a quote, please give our friendly team a call today.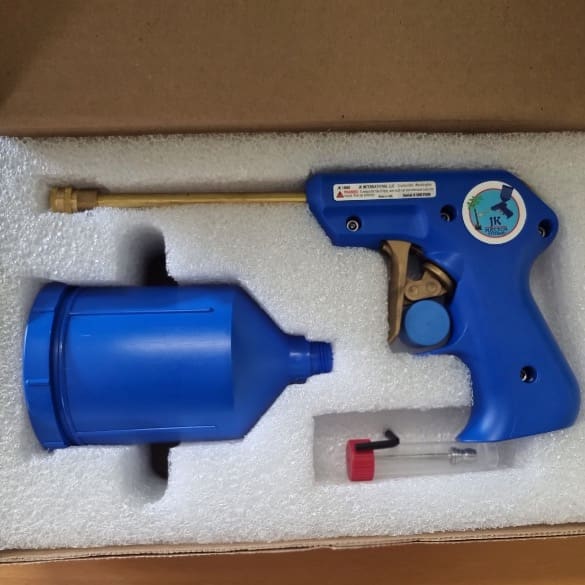 What does Japanese knotweed look like?
Use our extensive guide to identify Japanese knotweed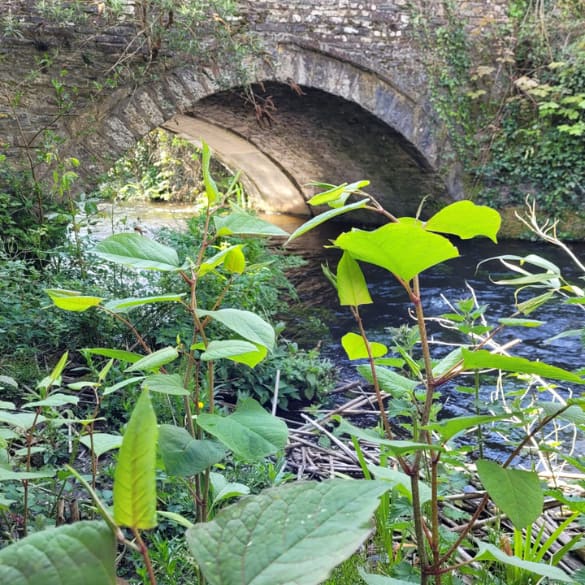 Which weedkiller is the best choice for Japanese knotweed?
Often marketed under brand names like Roundup or Weedol, glyphosate has gained recognition as one of the most effective weedkillers for Japanese knotweed. Glyphosate is a broad-spectrum herbicide, meaning it can eliminate a wide variety of weeds, making it a versatile choice for homeowners. It works by inhibiting a crucial enzyme in plant growth, ultimately leading to the death of the targeted plants. Compared with other chemicals, glyphosate is also a relatively safe weedkiller for humans and animals when used properly.
When looking to eliminate Japanese knotweed, most homeowners will want to purchase some of these products, as they are wildly available.
However, DIY attempts to kill the plant often end in failure. Japanese knotweed is notorious for its resilient, deep root system, and aggressive growth patterns, making it a challenge to get rid of, even for the most experienced gardeners. Knowing how much weedkiller to apply, as well as the right timings and methods of applications are crucial to achieving successful control. 
Your best bet, is to use professional services, for several reasons:
Professionals use more potent glyphosate formulations and specialised techniques, such as stem injections or repeated applications over several years to effectively tackle Japanese knotweed infestations. These methods will provide more targeted and thorough control, along with the all important reassurance that if the infestation does regrow, you can rely on the specialist guarantee.
Japanese knotweed encroachment issues
If it is evident that Japanese knotweed has crossed the boundary into/from adjoining land, we recommend that neighbours' knotweed is treated at the same time. We offer a neighbour discount scheme in these situations.
All applications are carried out by our competent and fully qualified team, in accordance with all legal requirements including the Environmental Protection Act 1990, Wildlife and Countryside Act 1981, COSHH Regulations, and Control of Pesticide Regulations.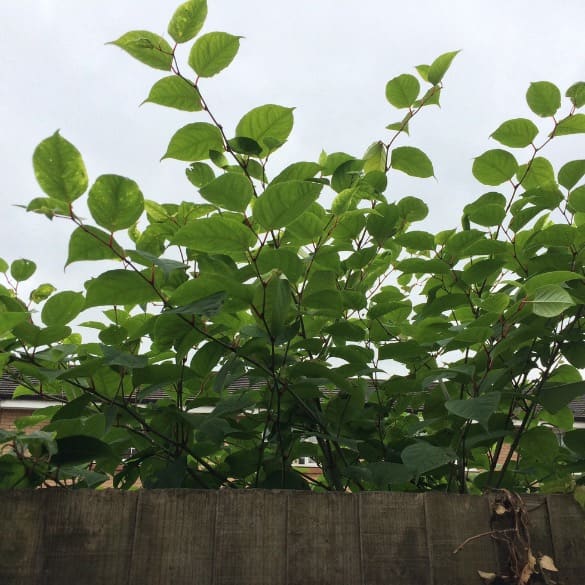 To Start Fixing your Japanese Knotweed Problem Today,
Call our team for specialist advice and effective solutions
We have robust systems in place for Environmental and Health & Safety management. Risk assessments are carried out for every aspect of our business to identify situations where harm could be caused. We have an ethos of continuous improvement to eliminate or reduce the risks with detailed working procedures, on-going training and monitoring.
All our staff have health and safety and emergency first aid training. We are also accredited by CHAS and Constructionline and are members of the Property Care Association (PCA).